Noplace, Oslo proudly presents:
TOO FAMILIAR TO IGNORE, TOO DIFFERENT TO TOLERATE
Christian Tunge
14.09.18 - 30.09.18
Opening: Friday 14.09.18, 18:00 - 22:00
...
Opening hours 12-17, Saturday and Sunday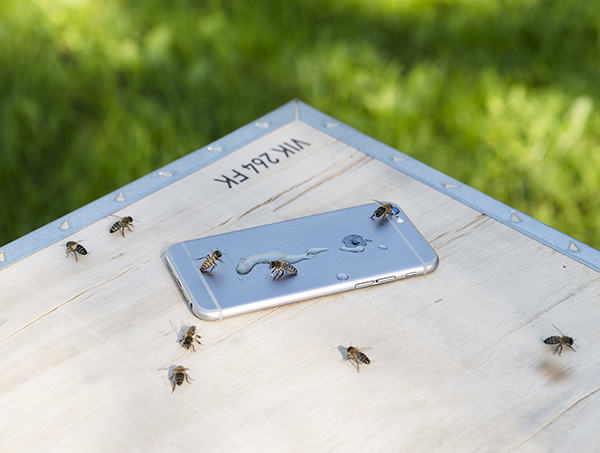 A picture of red roses indulges in symbolism and cliché. The print is large and probably aspires to be a billboard when it grows up. Next to it, a freshly manicured, white woman's hand with a translucent liquid dripping from it. Honey? Runny honey. Too much? Yes. Looking might arouse the viewer. Does that feel right, though?

There are many aspects to consider before you decide if being turned on is OK. Who am I, looking at this, and who made these images?

Four pictures of a brown hand piloting a model cargo airplane demand similar scrutiny. Race, the global market, pollution, and climate are some of the first and most obvious tags to consider and to assign to this film strip-like sequence. Is the plane and everything it symbolizes being brought down or is it being supported and helped? Well, which is it? What do we decide; what does that mean – is it exciting or does it make us uncomfortable? Is it OK? Are you OK? You're OK. We'll bee fine.

Your iPhone is covered in it, too. Runny honey. You are implicated, honey. Sticky icky. That's too much, right?

Cosplay and fashion. Plump lips – a woman's mouth slightly ajar. He is showing her something, explaining her. Across from DOMINATE – You are sex-positive, right? I mean, we all are. And the bees are dying or was that debunked? I don't remember the details but I read about it or heard about it and now I'm l looking at it. Or at least I think I'm looking at it. With you. On a construction site. They seem familiar, almost too familiar? They are not real, right? I'm afraid of getting stung. It kills them when they sting, right? If they are real, they are definitely dead. So it's OK to get stung then, right? Our footprints are all over it. On the dead bees; Air Force One's. But Nike – they're the good guys, no?! Behind glass and on screen. It's all connected. Or was that debunked?

Too Familiar To Ignore, Too Different To Tolerate by Christian Tunge is comprised of large photographic prints hyper-rich in detail and saturated in symbolism and references to contemporary pop culture and global politics. The same-titled book, launching in conjunction with this exhibition published on the artist's own imprint, Heavy Books, informs the show with an even deeper dive into said references. Specific attention is given to examining the behavior of honey bees and the structure within the beehive to consider our human condition.

Many poignant parallels can be drawn but it is perhaps more interesting to examine our own behavior in reaction to the work – both on a personal and private level but also collectively while experiencing it in the gallery. The work confronts us with subjects and themes, which are hard to ignore and asks us, in turn, if we can tolerate our own response.