Noplace, Oslo proudly presents:
POST NO BILLS
Ole Martin Lund Bø
23.03.18 - 22.04.18
Opening: Friday 23.03.18, 20:00 - 23:00
...
Opening hours 14-17, Saturday and Sunday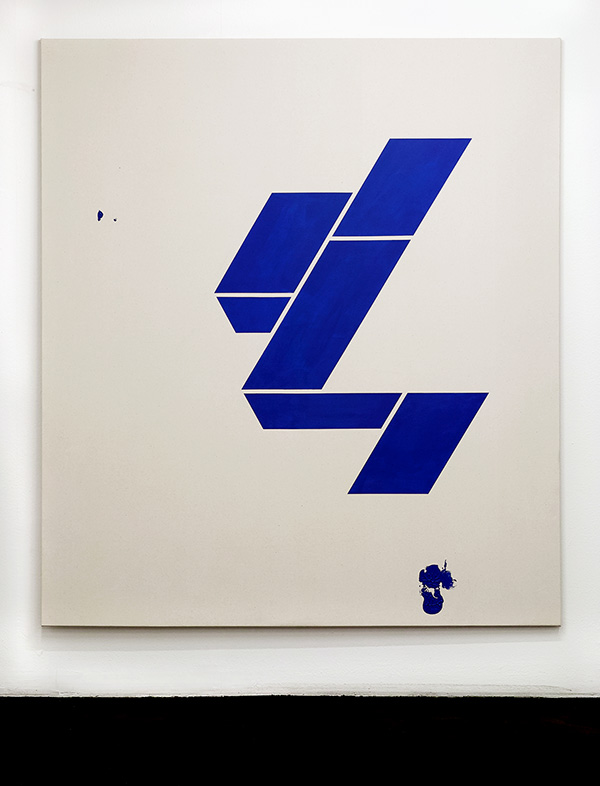 The message 'post no bills' performs sanitation for our eyes by discouraging the cluttering of shared space with the personal: no posters for missing cats, advertisements for massage or transport services, caretakers for hire, items for sale. The acrylic paintings in Ole Martin Lund Bø's exhibition Post No Bills at Noplace all have the same uncluttered character: groups of sharply delineated parallelograms and trapezoids and artfully executed blotches are scattered over the canvas. The palette is dominated by blues, featuring also pink, some green, black, red. The motif is distributed in a simultaneously grouped and scattered pattern, yet in sum sparse enough to provide ample space for the nondescript beige canvas to surface. This meted interplay of two distinct visual styles over a neutral ground, brings to mind the deliberate template of commercial design, where every gesture is a carefully considered means of persuasion. Consistently tilted to one side and always in parallel, the geometric shapes conform to an idiom that is ubiquitous in graphic design. Typically, the transport sector would be rife with this type of visuals. The readiness to change and move that the figures' angular orientation indicates, are attenuated by the architectural permanence associated with the squares. Both here to stay and attuned to future demands. The marks that keep the logo-like aggregates company look like accidental stains. They are not the products of a mindless procedure or random deposits, however; they are meticulously devised. Lund Bø's 'accident' strokes are discrete units extracted from a field of painterly noise, filtered through the brush and reintroduced to painting as intentional marks. Painting cannibalizing its own slop, squeezing it out in mini portions like shrink wrapped gestures passing through a partially obstructed bowel. A striking aspect of the pictorial scheme of Post No Bills is its noncohesion. The figures hover above a ground to which they have no explicit connection. They seem adrift, some unique clouds or spills, others decontextualised chunks of stock design. All debris. Lund Bø's compositions are not about the taming but the disappearing of noise. Or, more specifically, the disappearing of the qualitative difference that grounds noise as a category. This is how a scanner reads an image: every piece of information is equal. Nothing is background. Everything is relevant and not.